Disasters always have environmental contributors and consequences. Hurricane Harvey provides the latest reminder of this fact as Gulf coast responders assess risks and resiliencies in the affected region's water and food supplies, sewage systems, industrial and hazardous materials sites, housing stock, and other elements of the natural and built environment. Protecting communities and responders during disasters requires anticipating environmental and occupational health risks in advance and containing them as they emerge.
The National Health Security Preparedness Index's Environmental and Occupational Health (EOH) domain tracks the nation's progress in this area, which appears underwhelming in recent years.  The Index measures capabilities for maintaining the security and safety of water and food supplies and testing for hazards and contaminants in the environment. These measures reveal some concerning trends. Although geographic disparities are reflected in many areas tracked by the Index, variation across states is widest in EOH, with the leading state achieving protections 2.4 times greater than its lowest-scoring counterpart. Furthermore, more than 40% of all U.S. states have experienced declines in EOH protections since Index tracking began, while an additional 25% of states have held steady, seeing neither declines nor improvement. Yet during the same period, the U.S. has experienced improvements in most other health security domains tracked by the Index.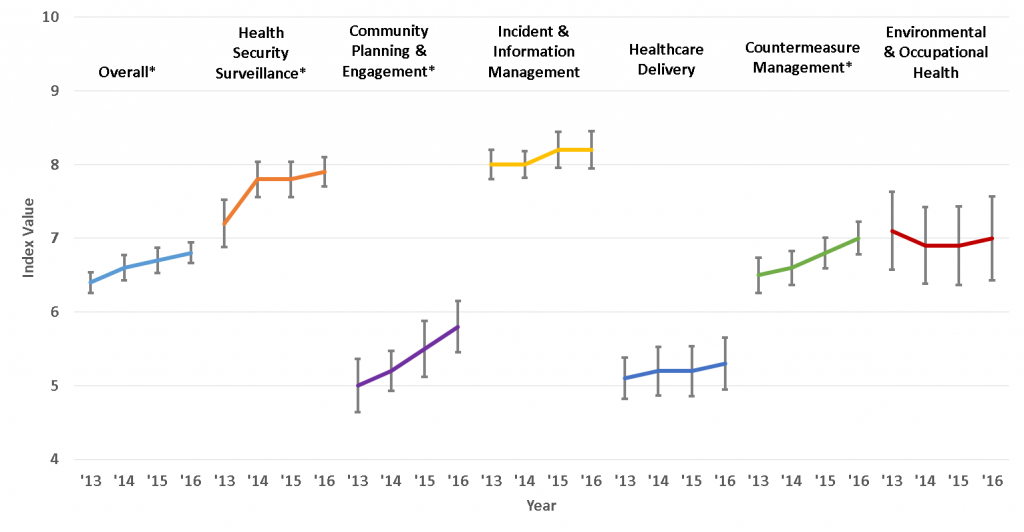 The National Conference of State Legislatures and the University of Kentucky's Index Program Office recently hosted a meeting of environmental and occupational health experts in Washington, DC to explore EOH domain trends. Meeting participants included representatives from the Centers for Disease Control and Prevention, the National Environmental Health Association, the National Institute of Environmental Health Sciences, the National Governors Association, the Association of State and Territorial Health Officials, the Association of Public Health Laboratories, the National Association of County and City Health Officials, state environmental health leadership, and community-based organizations. The meeting's purpose was threefold: 1) to identify specific policies, practices, and/or measurement issues contributing to variation and declines within the domain; 2) to discuss policy and practice implications for addressing potential drivers; and 3) to develop strategies for strengthening the domain in ways that can more accurately and completely measure environmental and occupational health contributions to health security. What did we learn through this important dialogue? In coming months, this blog will share excerpts from the forthcoming formal meeting report.
In the meantime, learn more about EOH and other 2017 results in the Summary of Key Findings, and explore data for all states, domains, and years in the 2017 Data Download – both are available from the Index Toolkit page. Then join our efforts in continuously improving the Index and supporting its use by participating in one of our standing workgroups.
Anna Goodman Hoover, PhD, MA is an assistant professor in the University of Kentucky College of Public Health Department of Preventive Medicine and Environmental Health, where she conducts research on how multi-sectoral communication and engagement strategies and structures can strengthen partnerships and support evidence-informed environmental health decisions.
Glen P. Mays PhD, MPH is the chair and a professor in the Department of Health Systems, Management and Policy in the Colorado School of Public Health at CU Anschutz. His research examines delivery and financing systems for health services, with a focus on estimating their effects on population health and economic efficiency.