In the midst of hurricane response and recovery efforts, we recently convened business and health experts for a robust virtual discussion about how disasters affect the economy, business, and communities. We examined how company policies can support a healthy workforce and minimize the impact of unplanned absences, as well as how businesses can prepare for and quickly recover from a disaster. Panelists Christopher Bollinger, University of Kentucky Gatton College of Business and Economics; Marc DeCourcey, U.S. Chamber of Commerce Foundation; Jennifer Esposito, Intel Corporation; and Lars Powell, Alabama Center for Insurance Information and Research at the University of Alabama, offered a range of perspectives on how the private sector plays a pivotal role in community preparedness and response.
Results from the National Health Security Preparedness Index clearly demonstrate that health security is not simply a governmental responsibility.  Individual businesses and the private sector at large contribute to many of the health security measures that comprise the Index, such as by offering paid time off and telecommuting options for employees, promoting vaccination coverage in the workforce, supporting workers who train and volunteer for their local Medical Reserve Corps, and participating in emergency planning and exercises organized by regional healthcare coalitions and networks.
Panelists shared key insights for both health and business stakeholders as they consider strategies for strengthening health security and preparedness activities, including:
The importance of leveraging the supply chain to prepare for events by collaborating on contingency plans to avoid large-scale business disruptions;
Increasing awareness about the need for preparedness plans among the business community, especially for small businesses with little influence over suppliers;
How business can foster social cohesion—often business owners work closely in the community and will need to rise above competition to recover from an adverse event;
Businesses as a catalyst for volunteerism in their workforce; and
Harnessing technology to plan, respond, and recover, for both large and small companies.
We also know health security and preparedness require cross-sector collaboration and a multipronged approach, and we were pleased that our participants joined from a variety of backgrounds. A plurality came from governmental public health, with significant representation from the private sector and academia.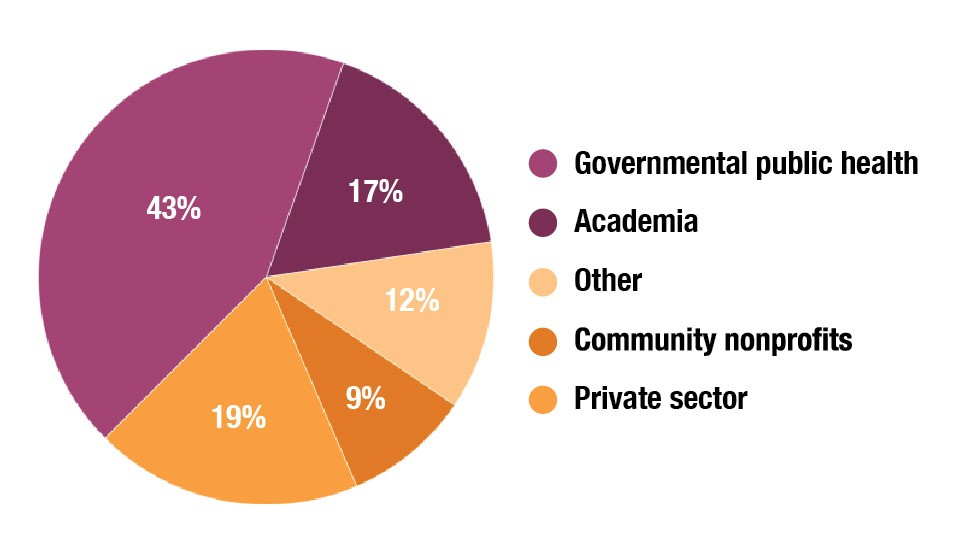 Figure: Webinar attendees
The diversity of our attendees led to questions on a wide-range of topics, including:
Global pandemics are arguably the only catastrophic threat that can simultaneously hit a business's employees, customers, and suppliers worldwide. Do you think most corporate CEOs are fully aware of the risk and adequately engaged in ensuring that all parts of the house (business continuity, HR, medical services) are resourced and supported? Are most companies doing drills?
As a Public Health Emergency Preparedness Coordinator through a Health Department, where should the line be drawn between helping private businesses to prepare vs. just working towards community preparedness?
How do you handle the moral hazard aspect of private markets, like healthcare, that may see these regional treatment facilities as the primary source for handling high-consequence pathogens and therefore cut down on preparedness and training?
Panelists mentioned the following resources during the discussion:
We are excited to continue engaging stakeholders from many different backgrounds and improving health security and preparedness in all communities. Follow the conversation on Twitter @NHSPIndex and stay tuned for more webinars on the role we all can play in health security.
Glen P. Mays PhD, MPH is the chair and a professor in the Department of Health Systems, Management and Policy in the Colorado School of Public Health at CU Anschutz. His research examines delivery and financing systems for health services, with a focus on estimating their effects on population health and economic efficiency.